November 2019
Economic medal of the state for Martin Höhn

Stuttgart, 13.11.2019: Honor - Economic medal of the state of Baden-Württemberg for twelve entrepreneurs and companies
Minister of Economic Affairs Nicole Hoffmeister-Kraut has awarded the state's economic medal to Martin Höhn at a ceremony in the New Palace in Stuttgart for outstanding entrepreneurial achievements and thanks for his special service to the economy of Baden-Württemberg.
"Your company history shows: Successful start-ups from garages not only exist in Silicon Valley, they have managed to turn two-man business into two innovative companies that have grown steadily since then and work together under one roof as a team.", emphasized Minister Hoffmeister-Kraut in her laudatory speech.
The Economic Medal of the State of Baden-Württemberg has been receiving personalities and companies that have made outstanding contributions to the country's economy since 1987. Also, special achievements that have been made in business organizations, trade unions, workers' organizations, employers' organizations and education, that serve the country's economy and society, can be honored in this way.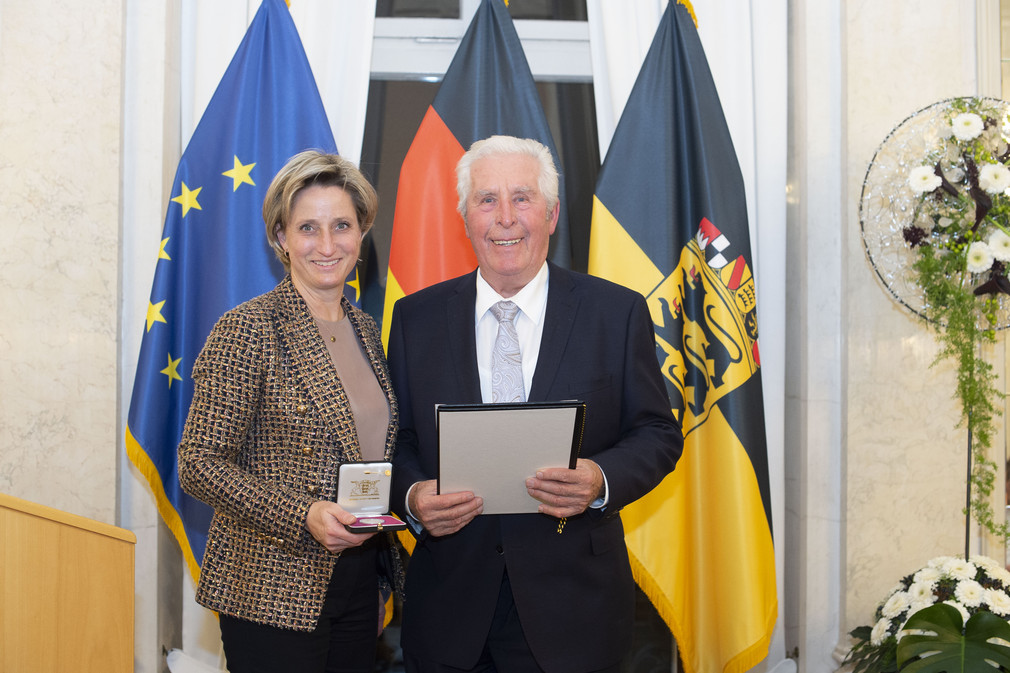 ---
November 2019
FLURO®-Gelenklager GmbH presents novelty at AGRITECHNICA 2019

The Rosenfelder company introduces its broad product portfolio to international trade visitors.
The FLURO®-Gelenklager GmbH from Rosenfeld is currently presenting its product portfolio of spherical plain bearings and rod ends at the AGRITECHNICA 2019, the world's leading trade fair for agricultural machinery of the DLG (German Agricultural Society). More than 2,750 exhibitors from 51 countries will be presenting themselves to over 450,000 visitors from 130 countries at the Hannover Messe from 10 to 16 November 2019.
"We are proud to be represented twice this year with our own booth at leading international trade fairs," says managing director Reiner Höhn. As a specialist with more than 40 years of experience in spherical bearing technology, Mr. Höhn sees growth potential for his company in the agricultural engineering and plant production sectors.
In addition to its wide product range of spherical plain bearings and rod ends, FLURO® introduces the new FLUROGLIDE® MEDIA SOLID high-performance spherical plain bearing as it did at bauma. This is e.g. used in hydraulic joint heads or in vehicle and plant construction and is virtually indestructible. Resistant to moisture, grease, oil and acid, the FLUROGLIDE® MEDIA SOLID high performance spherical plain bearing is ready to withstand the toughest demands.
"We want to consolidate and expand our position in agricultural technology with our innovative products and are pleased to be able to present our novelty to the international trade audience," emphasizes Reiner Höhn. He is confident that the contacts made at the show will lead to new promising business relationships, and he would like to thank his employees for their successes. The medium-sized company has been growing for years and is always on the lookout for creative minds who contribute with passion and foresight.
---
October 2019
Company excursion 2019: Review

At 7:00 am, 94 colleagues toasted with a glass of sparkling wine in front of the company building and looked forward to a great company excursion in 2019.
The weather kept its promise and so, strengthened with champagne and butter pretzels, we made our way to Bad Schussenried at 7.30 am on this golden autumn day. First stop was the Ailinger mill. After a schnapps from own production, we got an insight into the operation of the mill and then had the opportunity to buy the great products of the Ailinger mill and here again to try one or the other liquor.
On the drive towards Aulendorf we made a short stop at the parish church of St. Oswald in Otterswang. An eight-meter-large Thanksgiving rug made of natural materials was laid impressively here by eight women.
After a group picture we went to the Pagenmahl in the Aulendorfer Ritterkeller, where we were allowed to feed as in the Middle Ages. Following the rich lunch and the one or other mug of beer or wine, was a visit to the experience brewery Bad Schussenried of the Ott family. After a short stay in the idyllic beer garden, we got a tour of the entire brewery.
Following this, we made our way home in our two coaches and thanked Mr. Seemann and his colleague for having brought us safely from station to station.
We were very happy about the numerous participation in this year's company excursion!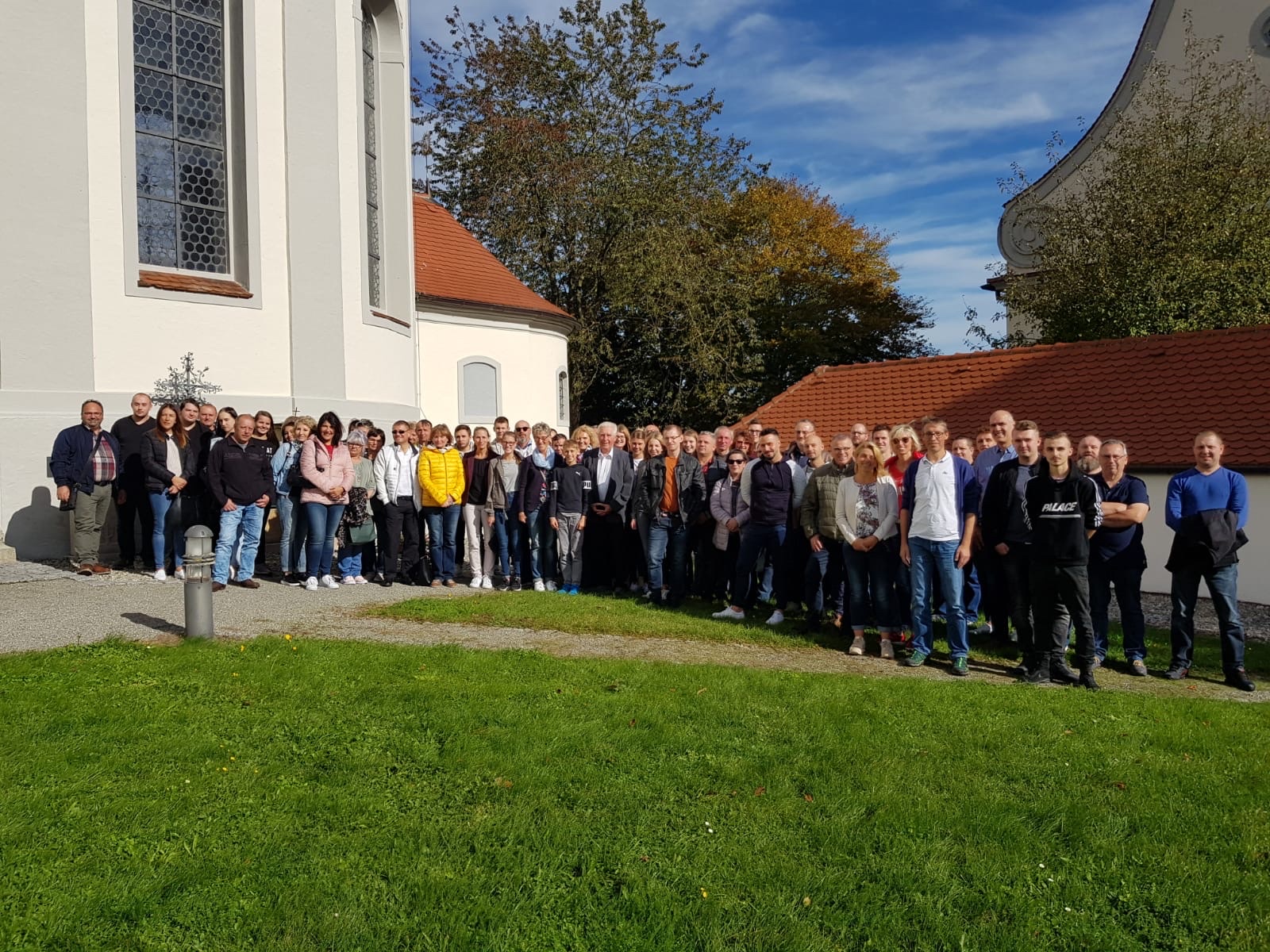 ---
October 2019
Visit us at Motorsport World Expo 2019
Visit us at the Professional Motorsport World Expo 2019 in Cologne on 13.-15. November.
Primary attendance is motorsport engineering and technical people, race car builders, team manager
and principals, and motorsport equipment dealers and distributors.
We look forward to your visit!
---
October 2019
Visit us at AGRITECHNICA 2019
AGRITECHNICA – The World's No. 1
WHERE INNOVATION MATTERS.
At the world's leading trade fair for agricultural technology, all the leading companies in the industry present their innovations.
AGRITECHNICA is the showcase of the global agricultural engineering industry and a forum for the future of plant production.
⇒ 2,802 exhibitors from 52 countries in 23 halls
⇒ 458,000 visitors from 130 countries / of those 110,000 are international visitors
⇒ Broad, up-to-date forum and conference program
VISIT US IN HALL 16, BOOTH 16F20
---
 April 2019

FLURO® - Exhibitor at bauma 2019 in Munich


- Lord of the rings -

 

The World's Leading Trade Fair for Construction Machinery, Building material and Mining Machines,
Construction Vehicles and Equipment.


We were so proud of our booth at bauma and it was a pleasure to present our new products.
The new FLUROGLIDE® MEDIA SOLID - spherical plain bearing, which is almost indestructible. Resistand against moisture
grease, oil. Ready to permanently withstand the hardest requirements.


We would like to thank you for your interest and your visit to our booth during the bauma 2019!
---
 February 2019

FLURO® at the iVT Expo 2019 in Cologne

 

 

From February 2019, the industrial vehicle industry will have an international exhibition in Cologne that showcases
nothing but the latest and next-generation components and technologies.

IVT Expo will only showcase the components, services and technologies from Europe and beyond that go into
making the next generation of industrial vehicles, plus a range of manufacturing and assembly technologies.

February 13 & 14 in Cologne, Germany
Hall: 11.1 / Booth: 1084



We look forward to your visit!


 
---
 September 2018

FLURO® at AGRO PROD MASH in Russia on 8.10.-12.10.18

Visit us at AGRO PROD MASH Expo in Russia.
Посетите нас в этом году на выставке AGRO PROD MASH Expo в России.
Your contact person: Viktoria Gerhardt
Ваше контактное лицо: Виктория Герхардт
Pavilion: 8 / Hall: 2 / Stand: 82D90
Павильон 8 / Зал 2 / стенд: 82D90