February 2020
Trainees present FLURO® and Höhn at the Future Day

 
A school group with a total of 7 pupils from the school Schulverband Kleiner Heuberg gained insight into the production as well as an overview of the training diversity at FLURO® and Höhn at the Future Day. The company group FLURO® / Höhn was presented to the pupils by trainees from the business and industrial sector. First of all, the company history and the training courses of the individual professions were explained. Afterwards the students were given a tour of the company by the trainees. During this tour, many machines, processes and some workpieces could be looked at more closely. The personalization of a workpiece in the training workshop was particularly impressive for the pupils. They were allowed to take this workpiece home as a souvenir. During a final interview, the students had the opportunity to ask questions about the companies, the training, the application and the job interview.
---
November 2019
6 apprentices visiting the Motor sport fair at Cologne

The Professional MotorSport World Expo is the largest fair in Central Europe, where only racing technologies for racing cars and road vehicles and tools are exhibited. Over 230 exhibitors present their products to up to 5,000 visitors. The fair is not open to the public as it is a technical show for engineers and managers of racing teams. As the FLURO®-Gelenklager GmbH is an exhibitor at the Professional MotorSport World Expo, the trainees of the Martin Höhn GmbH and the FLURO®-Gelenklager GmbH from the third year of apprenticeship were given the opportunity to visit the fair. Also this year, 6 trainees explored the motorsport fair and the company-owned stand of FLURO®. Afterwards, the trainees were able to get to know the city of Cologne and Cologne Cathedral.
---
September 2019
9 new apprentices go into the future with FLURO® and Höhn

Also this year we can introduce 9 new apprentices.
We are very happy and wish our new trainees a good start into professional life.
With FLURO® / HÖHN into the future!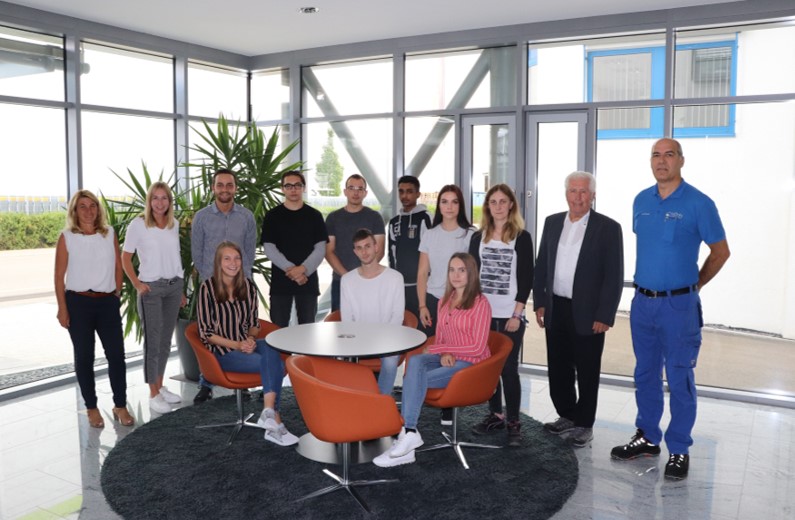 ---
September 2019
Training fairs: "Visionen 2019" in Balingen and "KAZ 2019" in Sulz a.N.

Also this year you will find us at the training fair "Visionen" in Balingen and the "KAZ fair" in Sulz a.N.
Visionen Balingen from 19.09.2018 - 21.09.2018 / KAZ fair Sulz a.N. on 11.10.2019
We look forward to interesting discussions!